"I'm going to travel across the Balkans for five weeks, would you like to meet me somewhere?", a friend asked me last summer - teacher, of course. How else could you take five weeks off for a holiday? And: What a question, of course, I'll join! After a quick google search, I found a place that would be easy and cheap for us to meet up: Belgrade.
I have never been there, I have no idea about Serbia, but what the heck – let's go! We both landed at Nikola Tesla Airport for a three-day weekend trip to the Serbian capital – and got totally surprised by the so-called Paris of the East. So here is my #traveldiary from a city that is almost undiscovered by tourists, but still has a lot to offer.

THIS POST MIGHT CONTAIN ADVERTISEMENTS FOR MENTIONED DESTINATIONS, EVEN IF THERE WAS NO PAYMENT OR OTHER COOPERATION WITH THESE DESTINATIONS. IT IS THEREFORE TO BE LABELLED AS ADVERTORIAL ACCORDING TO THE CURRENT UNCLARIFIED LEGAL SITUATION. IT ALSO CONTAINS AFFILIATE LINKS, MARKED WITH A *.
A weekend trip to Belgrade
The easiest way to get to Belgrade is with Air Serbia. At that time, I lived in Hamburg and flew from Berlin for only 80 Euros for a round-trip.

I booked through the airline's website, which was cheaper than booking through a flight search engines.
The flight time is not quite two hours, the Nikola Tesla Airport is 18 kilometers from the city center. Getting to the city center is easiest by taxi (insist on the taximeter!) or bus.
Notice thatGoogle Maps cannot show public transport in Belgrade. But the app Moovit works very well and reliably. The bus takes about 50 minutes to the city center.
If you don't want to fly, you can go by car. This is especially easy from southern Germany. It takes about 10 hours, and you can, for example, add stops and an overnight stays in Klagenfurt, Ljubljana or Zagreb.

With 1.3 million inhabitants Belgrade is one of the largest cities in the Balkans
Belgrade means "White City". The Serbian capital is often referred to as the gateway to the Balkans
After being ruled by Austro-Hungary and the Ottomans, Belgrade was the capital of Yugoslavia for almost 70 years. It was bombed by NATO in the late 1990s. Traces of these different periods can still be found everywhere in the city
In 2016 the Lonely Planet named Belgrade the best party city in the world. There are more than 170 clubs in the metropolis, most of them on boats on the Danube
Serbia is the only European country that uses two alphabets - Cyrillic and Latin. Serbian as a language is very similar to Croatian and Bosnian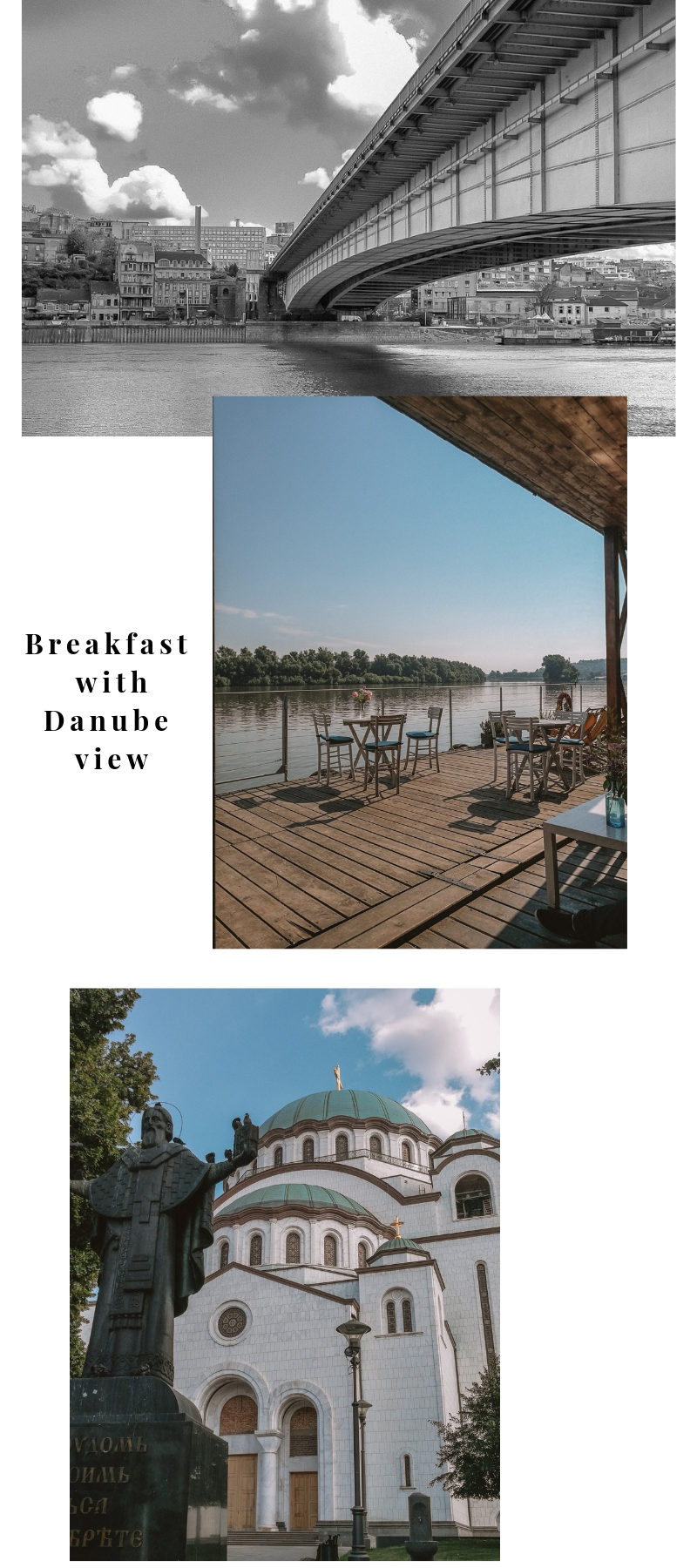 Belgrade was such an unplanned trip – I went there more or less by accident, did not prepare by reading blog posts or travel guides. And as it turned out, it was perfect for visiting the Serbian capital. We just started exploring without having any expectations.
We leave our suitcases at the hostel and hop on the next bus to the city center, the streets lined with communist buildings, which clearly have their best days behind them. 
After a little walk, we get to Hotel Moskva, which is packed: Novak Đoković, the current number 1 in the tennis world, plays against Roger Federer and all of Serbia sit spellbound in front of the TV to watch the match.
As we sit down and order an iced coffee and a cake with large, fresh raspberries, it becomes clear to us: This weekend trip will be different from trips we have taken before. Belgrade will surprise us, challenge us to visit it with open eyes. The white city is hidden under a dirty grey veil that needs to be lifted first – but we cant wait to do it!
Fortunately, the weather plays along, and the sun puts us in a good mood.
We decide to not make any plans for the first day and just explore the pedestrian area, stroll past half-decayed, formerly fancy, buildings and stumble upon a couple of sights on the way...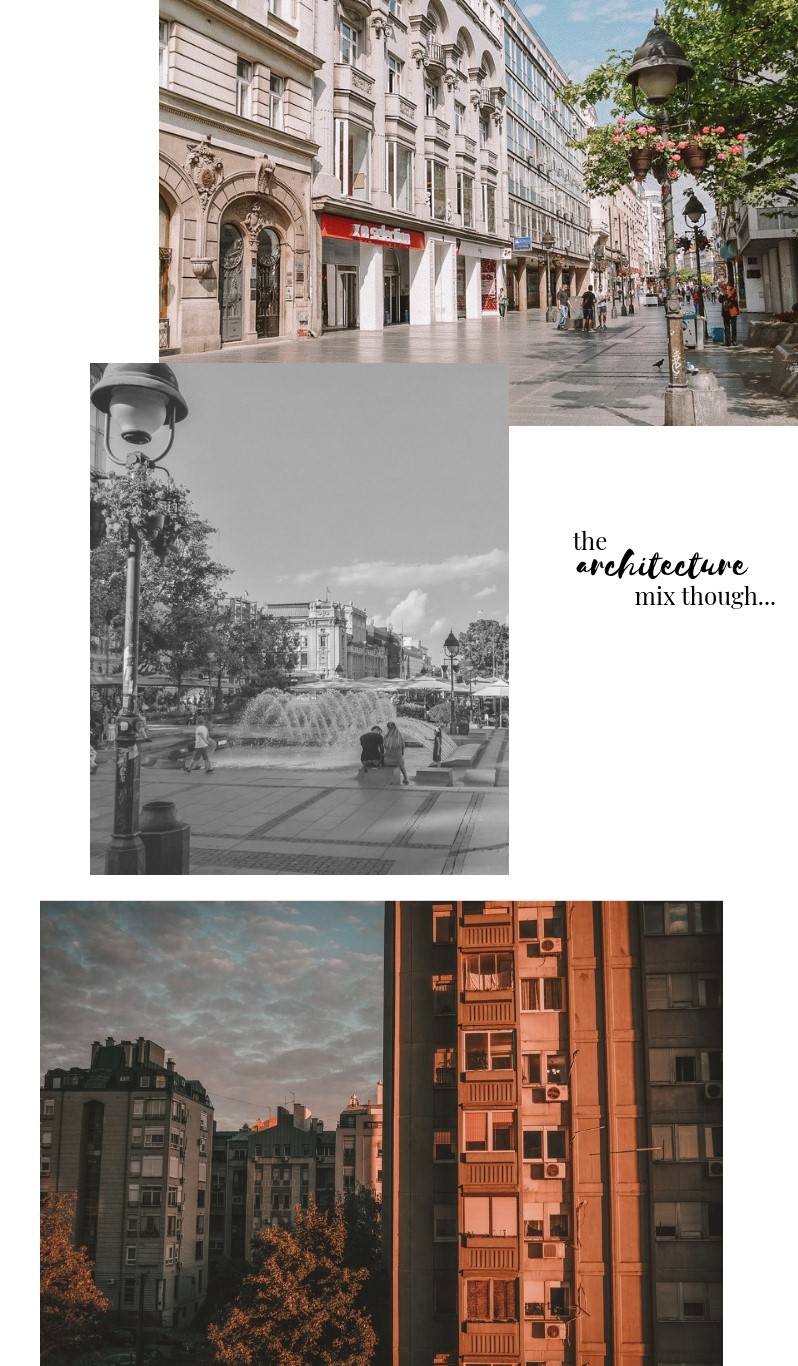 Exploring the city centre–
an afternoon discovering Belgrade
Church of Saint Sava – This orthodox church is one of the world's largest churches and somehow reminded us of Hagia Sophie. Be sure to visit it, it's breathtaking!

Trg republike – In English: Republic Square. Centrally located in the city, surrounded by houses with an interesting architectural mix.
Hotel Moskva  – Just sit down, have a coffee, and watch the people walking by!
Studentski park – A small park in the middle of the university quarter. Perfect for escaping the hustle and bustle of the city with a coffee-to-go. Not far from the pedestrian zone Kneza Mihaila. Kneza Mihaila.
Skandarlija – Often compared to Montmartre and maybe the reason why Belgrade is called "The Paris of the East" sometimes. An artists' quarter with cobblestoned streets and many nice cafés and bars. A bit touristy but nevertheless a must-see!
These and many other sights can be found in every city guide. Belgrade is a paradise for history and architecture lovers, that's for sure. But there are quite a few sights we didn't visit, just because we didn't have that much time.
Instead we just drifted along with the city's flow – and did not regret it.

all the food: restaurants
I love Balkan cuisine, although it is quite meat-heavy and there is not so much fresh fruit and vegetables, but mainly cooked food and stews.
We've eaten our way through Belgrade, and I have to share a few restaurants with you!

Bistro Grad – close to studentski park. Fabulous cocktails and delicious local wine.
Uzun Mirkova 5, Beograd

Vuk – classic Serbian cuisine. Be sure to try Pljeskavica with kajmak!
Vuka Karadžića 12, Beograd 11000

ENDORFIN – – the best truffle fries I ever had!
Braće Jugovića 3, Beograd 11000
Centrala – shabby-chic bar with cheap and good drinks
Simina 6, Beograd
You want the perfect spot for a sundowner? Just wait a bit, I'll tell you where to go a bit later!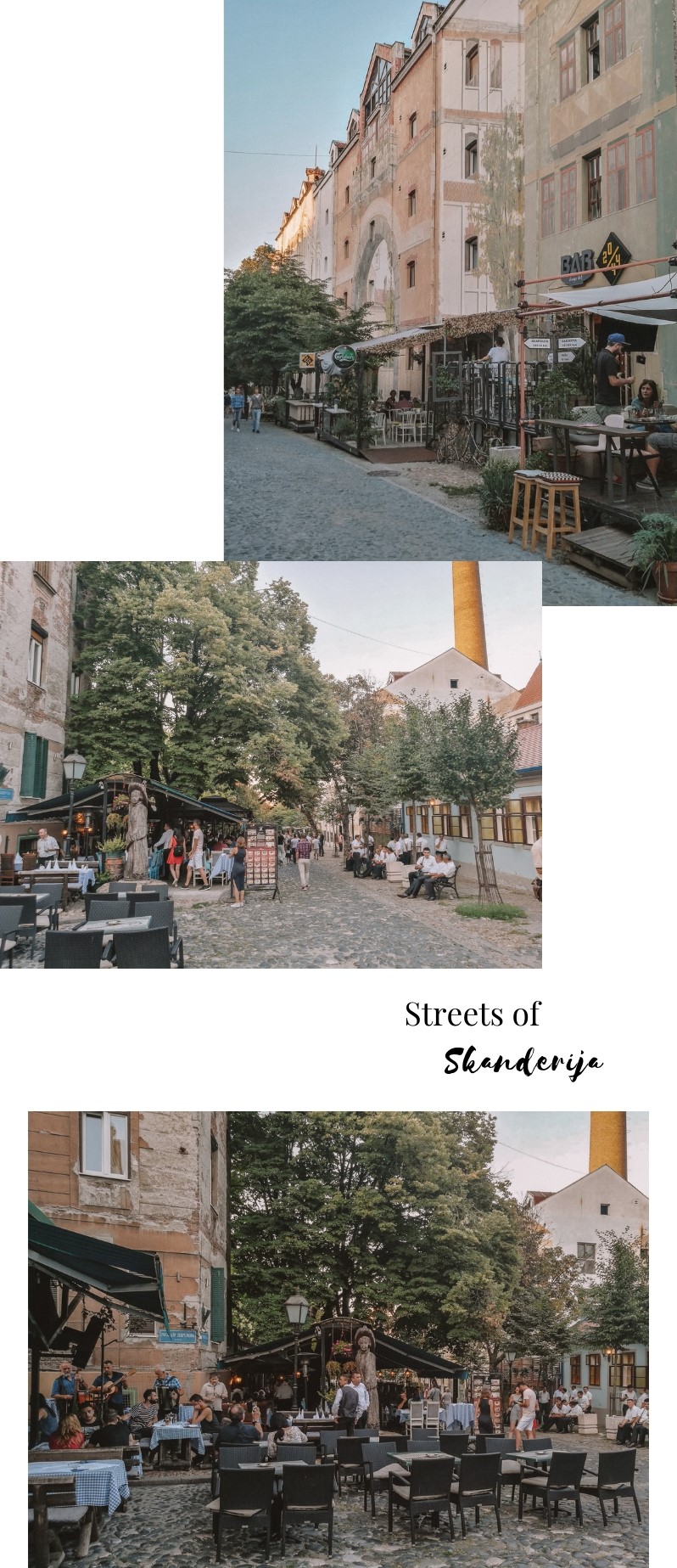 explore some more
heading out of the city
After a more or less sleepless night, thanks to a Serbian birthday party in the hostel's breakfast room, we meet up with Zorica. A colleague of my friend and a true Belgrade girl.
Should we go see Nova Beograd, the socialist part of the city that was built quickly during the Yugoslavian period and with little aesthetic appeal? No, it's not worth seeing, says Zorica. There is enough ugliness in the world, already. Instead, she takes us out of the city. Stattdessen führt sie uns raus aus der Stadt.
We meet at Hotel Jugosloavia in Block 11 (New Belgrade is built in blocks, like a chessboard) and stroll along the Danube for a good forty minutes until we land in Gardoš, a district of Belgrade that looks like the complete opposite of the prefabricated Yugoslav buildings we just walked past.

We walk past art galleries and small restaurants up to the Kula Gardoš, a 36-meter-high tower from the times of the monarchy. From up here, the grey prefabricated apartment blocks look small and less oppressive, and the Danube glistens peacefully in the sun.
After a lazy stroll down the mountain, we sit down in one of the restaurant by the river and enjoy dolma (stuffed vegetables) with fresh bread, plejskavica (Serbian burgers) and bean soup before heading back into the hustle and bustle of the city – ready for another night in the Paris of the East.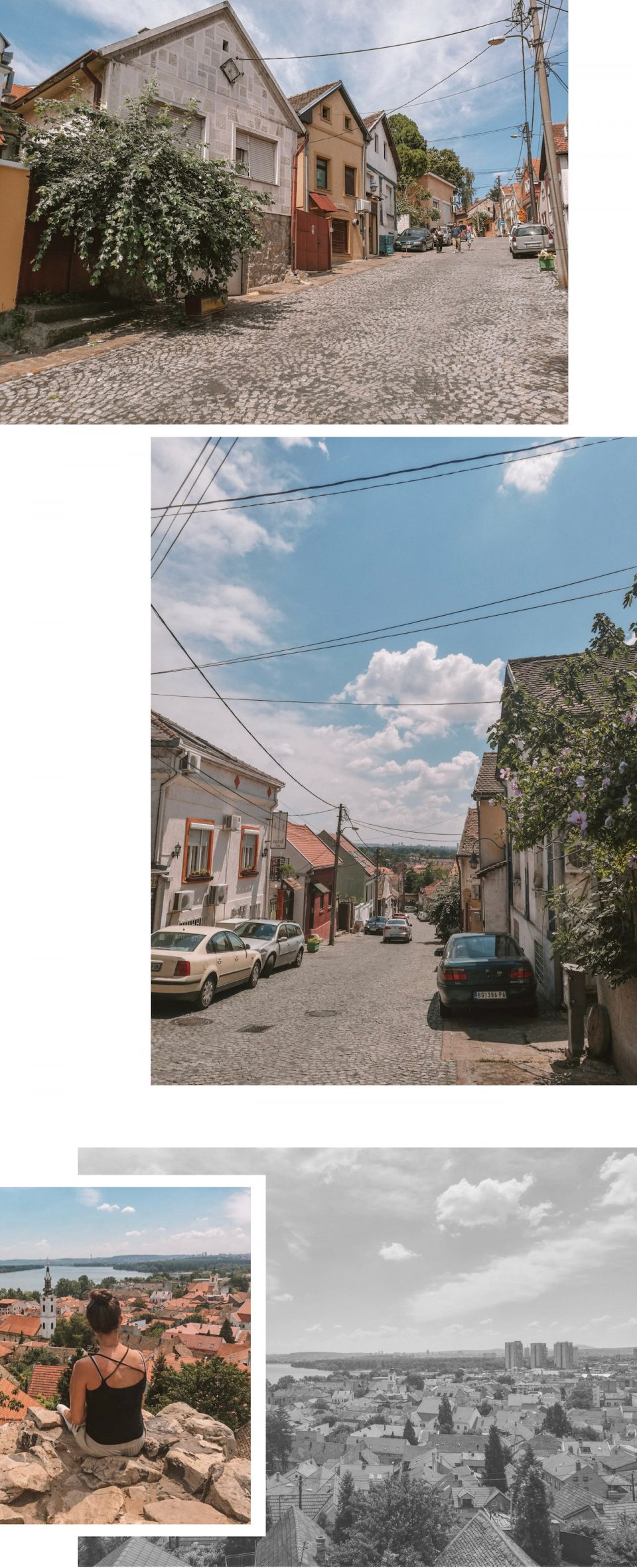 the most beautiful sunset spot in Belgrade
Before the party down at the boats starts, we experience the most beautiful sunset of the year – thanks to the guide of our free walking tour!
While the tourists crowd on the walls of Kalemegdan, the fortress of Belgrade, we casually stroll into the back of the enormous fortress.
Here we find the Rose Church, a small orthodox church whose chandeliers are made of old bayonets.Right behind it, there is a short path that leads us to Boho Bar , maybe one of the most beautiful bars I have ever had a sundowner in.

While we drink g&t's, the sky lights up in the craziest sunset colors – and for the first time in three days, Belgrade seems almost magical.


Restoran Manufaktura – The favorite instagram hotspot of the city and good traditional cuisine with a modern twist
Cantina de Frida –  Who said you should eat Serbian food in Serbia? In Cantina de Frida, you get great Mexican food and an amazing view of the Danube!
Beton Hala  – It's not one restaurant exactly but a promenade along the Danube with several nice restaurants and bars
Sarajevski ćevap – For everyone that doesn't get to Sarajevoon their balkan trip: You can eat traditional Bosnian cuisine here as well!
4 Dunje – A nice indoor garden to take a break from the hustle and bustle of the city
parts of the city worth visiting
Kalemegdan – The castle of Belgrade with its park is so big that you can spend the whole afternoon there. Be sure to visit the Rose Church and the tank exhibition.
Novi Beograd – Rent a bike and ride along a few blocks of the New Town - the practicability and ugliness of its buildings surely remind you of the Yugoslavian times and Serbia's communist past.
Dorćol  – The oldest part of Belgrade is now newly renovated. Many cool bars, boutique shops and restaurants can be found there.
I also recommend you do a free walking tour. Belgrade has a turbulent past, and a local can tell you about it so much better than a Wikipedia article.
You can also find lots of great tips for a trip to Belgrade as well as vegan restaurants on heylilahey (in German though).
People ask me about safety when traveling the Balkans a lot. So let me confirm: Belgrade is a safe and completely normal European city.
Nevertheless, I have a few tips: 
Taxi and bus drivers take advantage of the fact that tourists don't speak Serbian, and they might try to rip you off. The only thing that helps is: Insist on a switched on the meter and pay the bus driver with the exact amount, if possible.
Pickpockets: Take care of your bags or your luggage - but this does apply for all big cities in the world.
Traffic in Belgrade is bad and drivers show little consideration. Don't just cross the street – even at a designated crossing – without double checking if a car is coming your way.

Oh and there is actually one thing i hate about Serbia as well as Bosnia and Herzegovina:The smoking indoors! If you are sensitive to that, I recommend you visit in summer when you can sit outside and won't be bothered by the smoke so much.