""I'm going to travel across the Balkans for five weeks, would you like to join me somewhere?" a friend asked me last summer - teacher, sure. How else could you take five weeks off for a short while! Nevertheless, of course I'll join her somewhere. After a bit of googling, it's clear: the place where we can meet is the best and cheapest for both of us: Belgrade.
I have never been there, I have no idea about Serbia, but what the heck - let's go! We both landed at Nikola Tesla Airport for a three-day weekend trip to the Serbian capital - and got totally surprised by the so-called Paris of the East. So here is my #traveldiary from a city that is almost undiscovered by tourists, but still has a lot to offer.

In this post, I'll tell you about the best sights in Belgrade and my tips and experiences!
This post is from 2019 and has been updated and revised.
The easiest way to get to Belgrade is with Air Serbia. I was still living in Hamburg at the time and flew from Berlin for just under 80 euros. But other airlines like Easyjet or WizzAir also fly to Belgrade several times a week.

I booked through the airline's website, which was cheaper than any flight search engine - and it's usually true for low-cost airlines, too: Booking via their website is cheaper than via search engines and also guarantees you at least basic support if something doesn't work out. 
From the airport, the easiest way to get to the city centre is by bus or taxi - be sure to check the meter so you don't get ripped off!
Notice thatGoogle Maps cannot show public transport in Belgrade. Instead, the app Moovit works very well. However, the bus takes about 50 minutes to the city centre, our accommodation was a bit outside and I was on the road for 40 minutes.
If you don't want to fly, you can alternatively travel by car. This is especially good from southern Germany. It takes about 10 hours and you can, for example, make a little road trip out of it and make a stop and spend the night in Klagenfurt, Ljubljana or Zagreb.

We slept on a houseboat on the Danube. The ArkaBarka floating hostel & apartments are located quite idyllic a bit outside the city centern which is accessible by bus or bike within 15 minutes.
We had a double room with shared bathroom and breakfast included, which is not exactly earth-shattering, but good enough for a good start to the day.
An alternative (especially if you need a parking space) is the HostGost apartment in a quiet part of town, about 30 minutes' walk from Republic Square.
EIN PAAR FAKTEN
With 1.3 million inhabitants Belgrade is one of the largest cities in the Balkans
Belgrade means "White City". The Serbian capital is often referred to as the gateway to the Balkans
After being ruled by Austro-Hungary and the Ottomans, Belgrade was the capital of Yugoslavia for almost 70 years. It was bombed by NATO in the late 1990s. Traces of these different periods can still be found everywhere in the city
In 2016 the Lonely Planet named Belgrade the best party city in the world. There are more than 170 clubs in the metropolis, most of them on boats on the Danube
Serbia is the only European country that uses two alphabets - Cyrillic and Latin. Serbian as a language is very similar to Croatian and Bosnian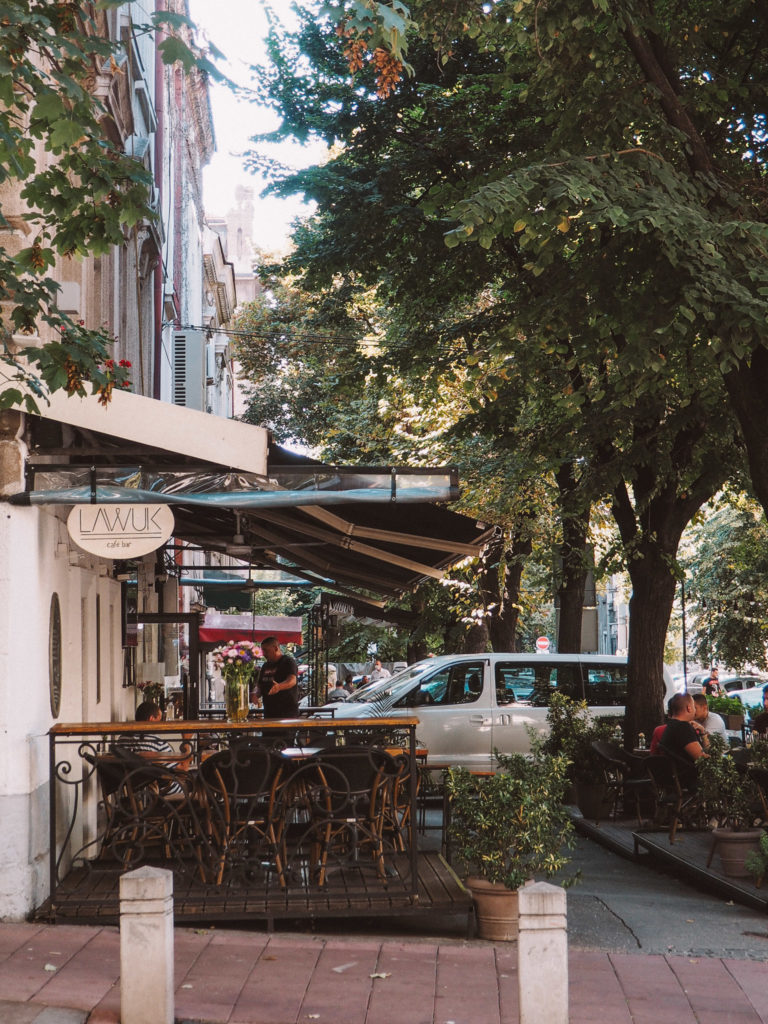 We leave our suitcases at the hostel and hop on the next bus to the city center, the streets lined with communist buildings, which clearly have their best days behind them.

Finally, we end up at the Hotel Moskva, which is packed to capacity: Novak Đoković, the current number 1 on the tennis world ranking list played against Roger Federer and all of Serbia hangs spellbound in front of the TV to watch the match of the state hero.
As we sit down and order an iced coffee and a cake with large, fresh raspberries, we realise: this weekend trip will be different from the others. It will be surprising, Belgrade will challenge us to meet her with open eyes. The white city is hidden under a grey veil of grime and it needs to be lifted first.
We decide not to make any plans for the first day and just let ourselves drift. To explore the pedestrian zone, stroll past half-ruined magnificent buildings and discover the hipster quarter of the city...
exploring the city center
SIGHTS IN BELGRADE
Church of Saint Sava – This orthodox church is one of the world's largest churches and somehow reminded us of Hagia Sophie. Be sure to visit it, it's breathtaking!
Trg republike – In English: Republic Square. Centrally located in the city, surrounded by houses with an interesting architectural mix.
Hotel Moskva  – Just sit down, have a coffee, and watch the people walking by!
Studentski park – A small park in the middle of the university quarter. Perfect for escaping the hustle and bustle of the city with a coffee-to-go. Not far from the pedestrian zone Kneza Mihaila. Kneza Mihaila.
Skandarlija – Often compared to Montmartre and maybe the reason why Belgrade is called "The Paris of the East" sometimes. An artists' quarter with cobblestoned streets and many nice cafés and bars. A bit touristy but nevertheless a must-see!
Kalemegdan – The castle of Belgrade with its park is so big that you can spend the whole afternoon there. Be sure to visit the Rose Church and the tank exhibition.
Novi Beograd – Rent a bike and ride along a few blocks of the New Town - the practicability and ugliness of its buildings surely remind you of the Yugoslavian times and Serbia's communist past.
Dorćol – The oldest part of Belgrade is now newly renovated. Many cool bars, boutique shops and restaurants can be found there.
In any case, during a city trip to Belgrade a walking tour is also worth taking!The city has a turbulent history, which is reflected in the architecture and the people's attitude to life. So it's simply much more exciting to hear it told by a local instead of a Wikipedia article!
A few words about Belgrade: The city is not a classic beauty, on the contrary - at first glance it might even seem ugly. But: Just walk through the streets with your eyes open and let yourself be surprised. 
At the end of the day, Belgrade, precisely because it is not a classic Central European metropolis, is a city where it is best to just let yourself drift instead of working through a list of sights. I didn't regret just letting the city surprise me!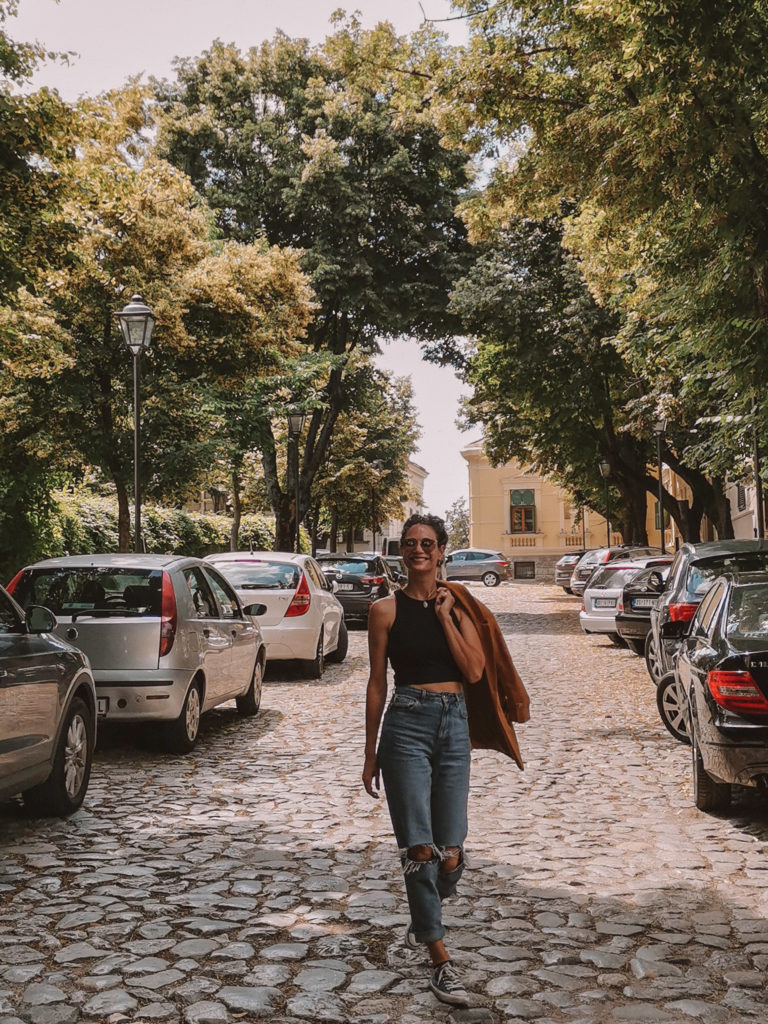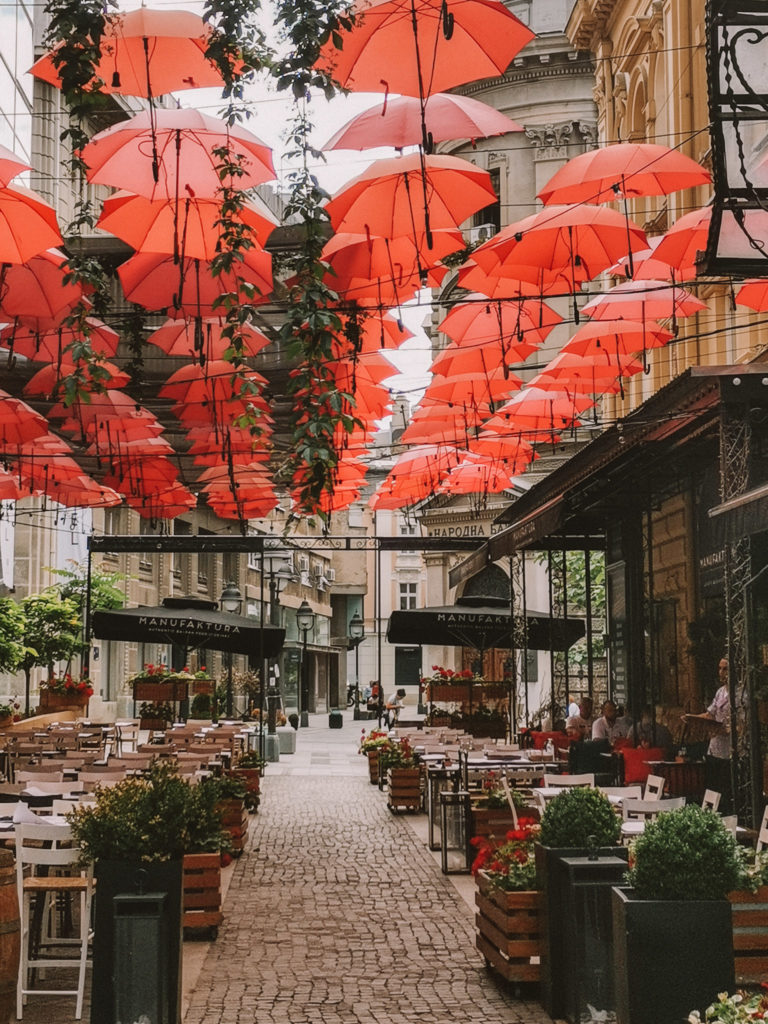 MORE THINGS TO DO IN BELGRADE
all the food
RESTAURANTS IN BELGRADE
Belgrade is full of excellent bars and restaurants - here you will find the top culinary addresses in the Balkans, from traditional to international cuisine. I've been to Belgrade many times, but one thing I can say for sure is that I've never had a bad meal there!  Ich war inzwischen schon viele Male in Belgrad, aber eines kann ich mit Sicherheit sagen: Ich habe dort noch nie schlecht gegessen!
Bistro Grad

– Near the student park. Fabulous cocktails and very good wines.


Vuk

– Classic Serbian cuisine - definitely try Pljeskavica with kajmak!

ENDORFIN

–

Possibly the best truffle fries I've ever had, plus good wines!

Boho Bar

– the best sunset spot in town!
Centrala

- Alternative bar in boho shabby chic, the drinks are unbeatably cheap.

Restoran Manufaktura

 

– The favorite

instagram hotspot

of the city and good traditional cuisine with a modern twist

Cantina de Frida

 - Mexican cuisine with a view of the Danube and the sunset.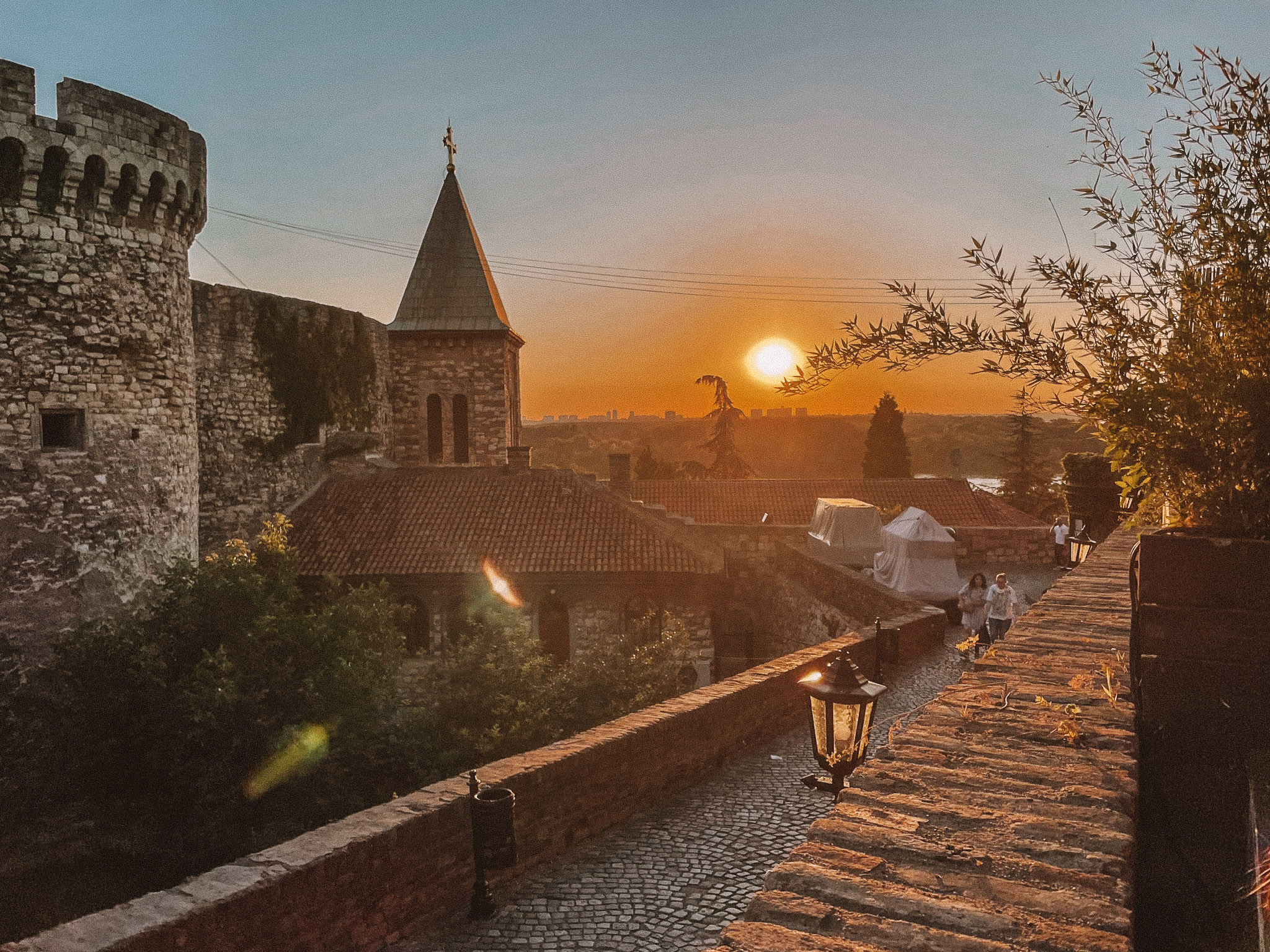 People ask me about safety when traveling the Balkans a lot. So let me confirm: Belgrade is a safe and completely normal European city. Nevertheless, I have a few tips: 
Taxi and bus drivers like to take advantage of the fact that tourists don't speak Serbian, and they might try to rip you off. The only thing that helps is to insist that the taxi meter is switched on and to pay the bus driver as appropriately as possible.
Pickpockets:Watch out for your bags or luggage - but this has less to do with Belgrade than with any big city in the world.
- Traffic is very heavy here and drivers don't show much consideration. So don't just cross the street just because of the green light, but rather look more to the left and right.

Oh and there is actually one thing i hate about Serbia as well as Bosnia and Herzegovina:people smoke inside. 
So if you are really sensitive about that, it is recommended to visit Belgrade in summer when you can sit on terraces.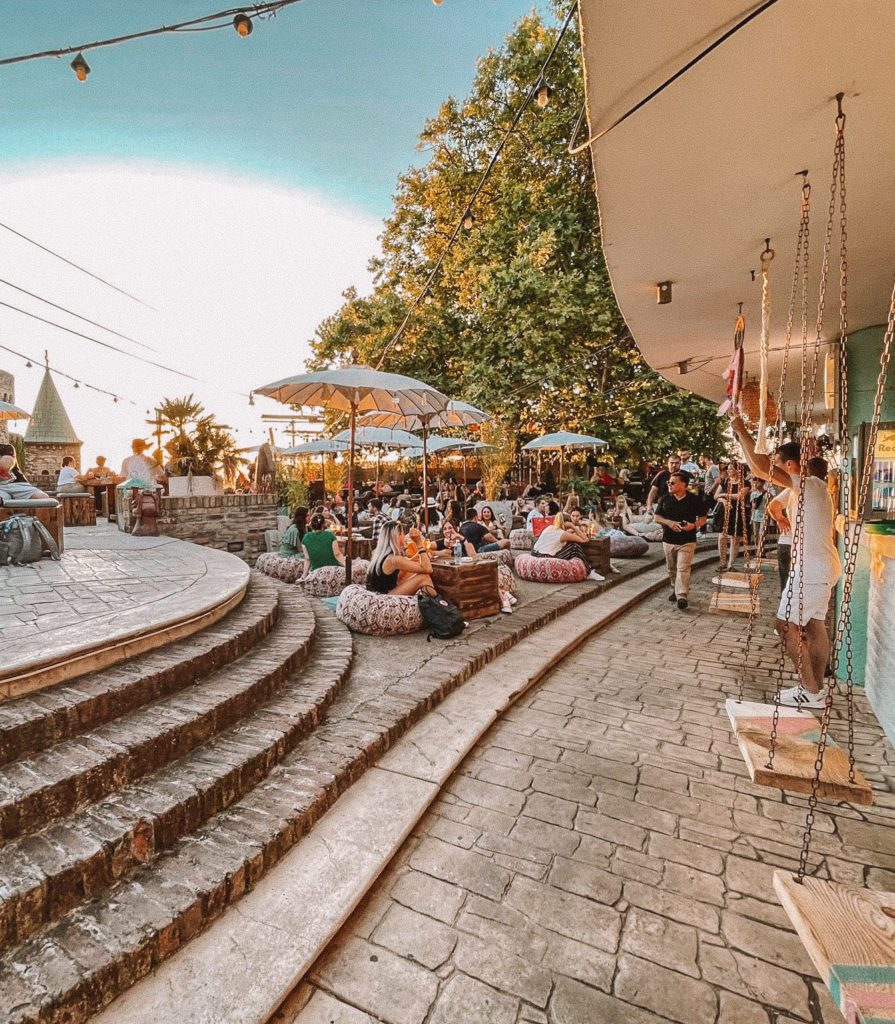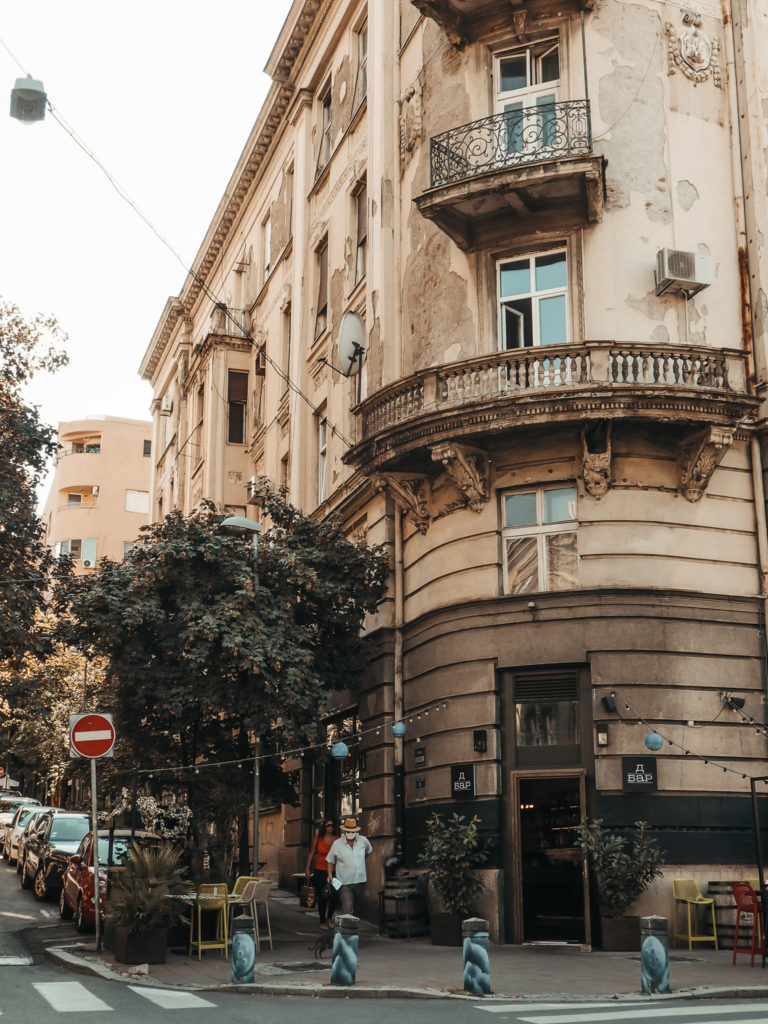 TRANSPARENCY: AFFILIATE LINKS
This blog article contains personal recommendations in the form of affiliate links. If you book or buy something through the links, I receive a small commission. For you, this does not change the price at all. Thank you for your support!
Have you been to Belgrade? If so, how did you like it? Do you have any additional tips or experiences? I look forward to reading about it in the comments!