Venice has the carneval, New Orleans has Mardi Gras, Boom in Belgium has Tomorrowland – and Sarajevo has the Sarajevo Film Festival! It is undoubtedly the biggest event happening in the city all year. For seven days the capital of 500,000 turns into a much bigger city, with tourists, filmmakers, film lovers, and celebrities from the Balkans and the rest of the world flocking to the Bosnian-Herzegovinian capital.
Yes, Sarajevo during SFF, who we lovingly call the film festival, is a different world. Sarajlije (the citizens of Sarajevo) take the week off, to watch movies during the day, mingle with the crowds and party the night away. It can be daunting, though, to navigate the Sarajevo Film Festival on your own, so I have compiled everything you need to know about attending the SFF and having the very best experience – from tickets to events & parties. So here is your festival guide: All you need to know when visiting the Sarajevo Film Festival for the first time!
Sarajevo Film Festival: Date 2023
The 29th Sarajevo Film Festival 2023 takes place from August 11th until Friday 18th, 2023.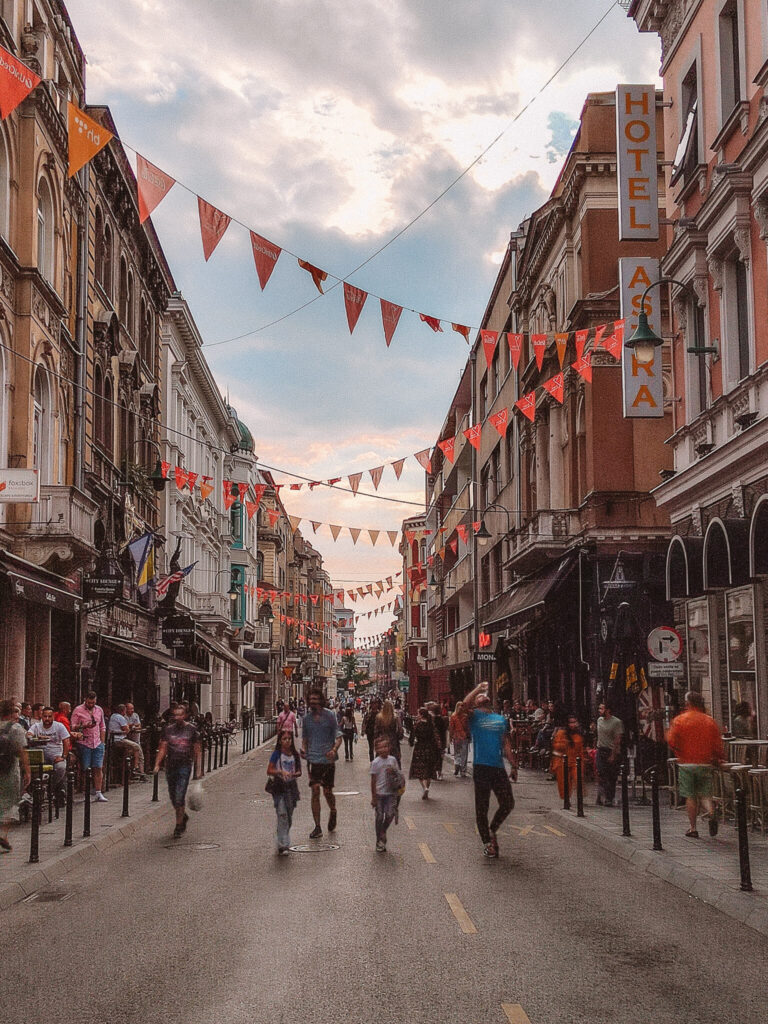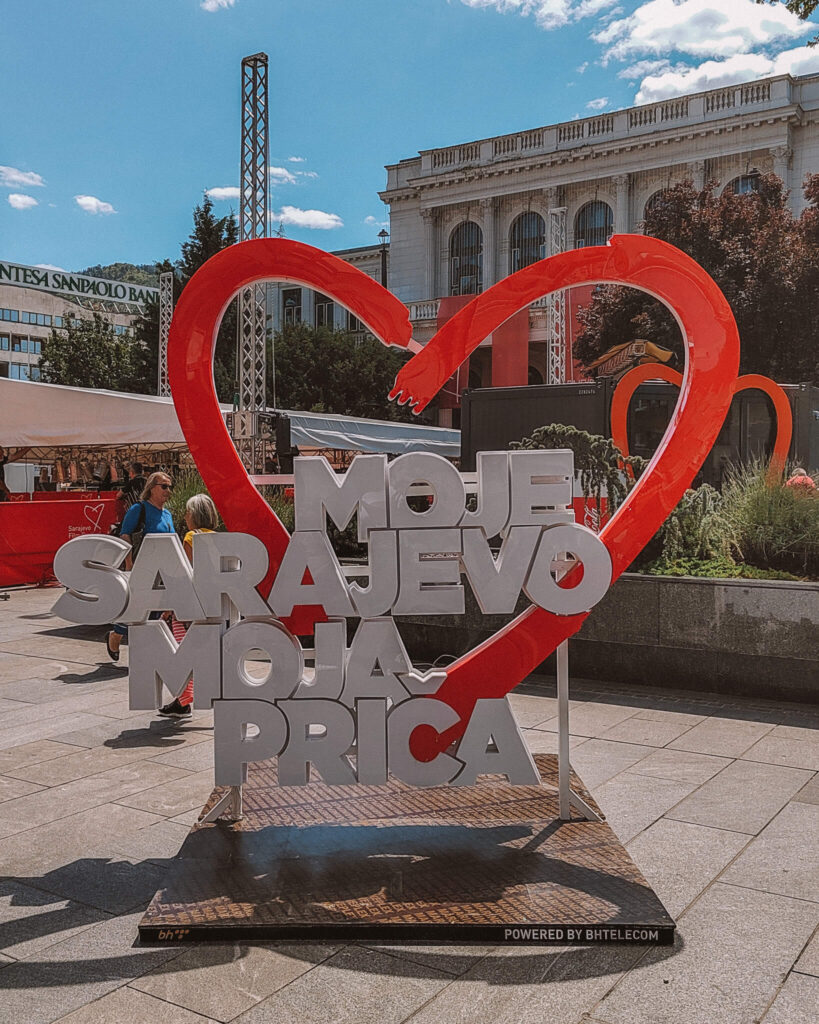 History of the Sarajevo Film Festival
The Sarajevo Film Festival actually has an interesting history. It was founded in 1995, right during the siege of Sarajevo in the middle of the Bosnian War. Back then, it took place in the Bosnian Cultural Center, an old Jewish temple turned event location with thick walls and good protection. 
Even though the organizers didn't expect a huge attendance, 15,000 people came to see 37 films from 15 different countries! An act of resilience and a sign to show the world: We won't have our culture taken away!
Since then, the Sarajevo Film Festival has grown into the most important film festival in Southeast Europe and one of the most important film festivals on the continent. Every year, more than 100,000 people come to the screenings and participate in the program of the festivals, that is now held in the National Theather and various locations in Sarajevo and Mostar.
Participate in the Sarajevo Film Festival as a volunteer
If you are interested in the film industry, maybe even working in the film industry and want a peek behind the scenes of a big, international film festival, volunteering at the Sarajevo Film Festival might just be the thing for you!
Volunteers receive a film pass for the duration of the festival and also gain experience in the organisation of big cultural events. 
They welcome, register and accommodate guests, and can work in the press center and festival committee too. The volunteers are always a fun bunch, a mix of locals and internationals and they do their part to make the Sarajevo Film Festival successful and the city a bustling melting pot. 
You can apply to become a volunteer at the Sarajevo Film Festival here until June 26, 2023.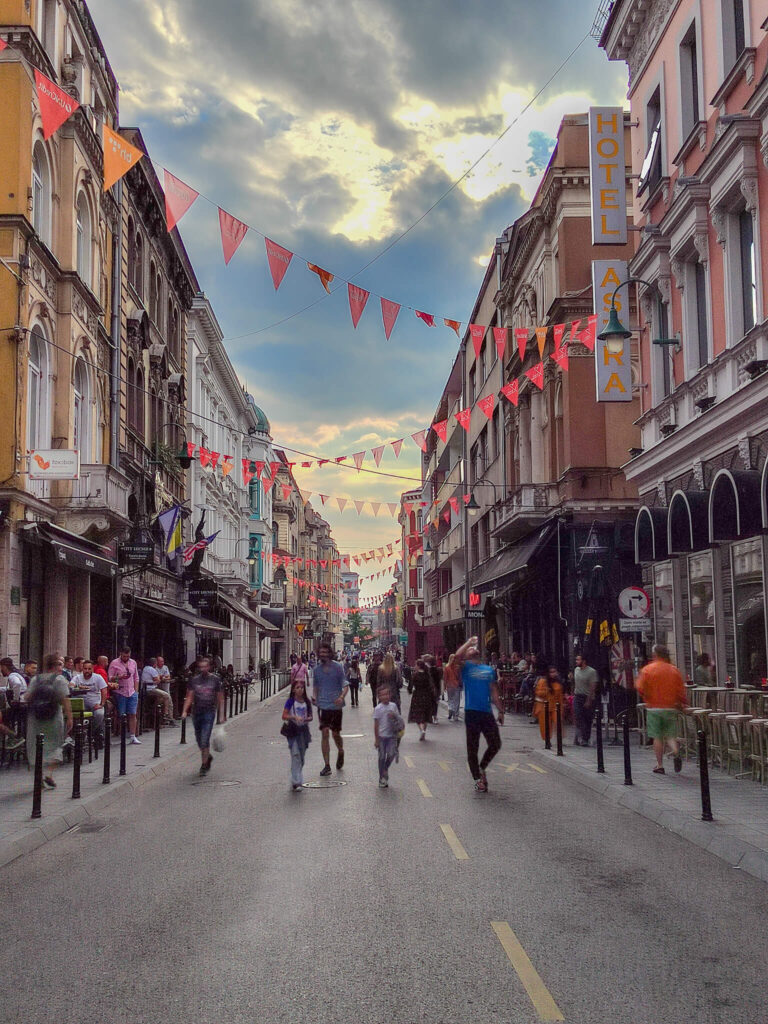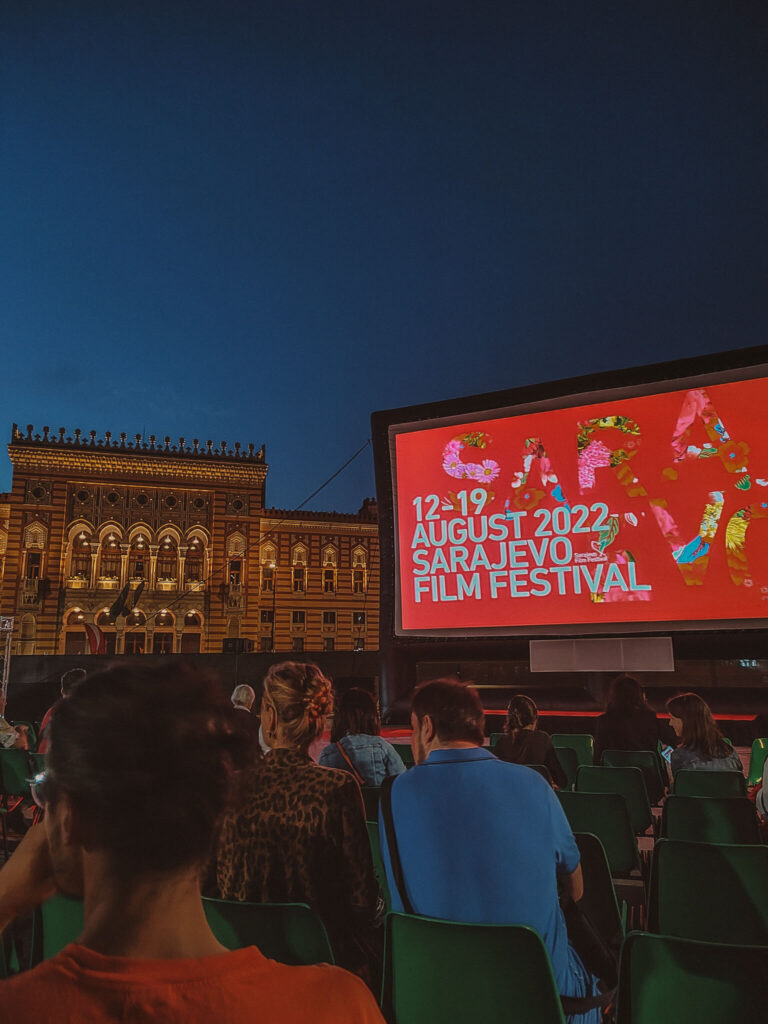 How to buy tickets for the Sarajevo Film Festival?
You can buy tickets for the Sarajevo Film Festival on their official website or at the official box offices, You can find all addresses here. 
Shortly before the film festival (usually around 10 to 14 days), the online sale starts, and you can either buy a film pass for the whole week or buy tickets to single movies. The tickets are really affordable – normally around 12 KM (around 6 EUR) for one film.
For now, the booking platform is not open yet, and the prices are also not out yet, but I will update this article as soon as they are! You can, however, already check the movies that you would like to see during the Sarajevo Film Festival. 
When buying, check the location carefully – Sarajevo Film Festival also offers a few screenings in the city of Mostar, and you don't want to buy a ticket for a place you are not staying in. Also make sure to check to which location screenings are moved in case of rain (and since SFF is happening at the height of summer, chances of one or another thunderstorm are high).
If you are an industry professional, student or journalist, you can get your accreditation here.
What movies are played at the Sarajevo Film Festival?
Apart from International and European films, the Sarajevo Film Festival also puts a focus and special awards on regional films and series. From short films to blockbusters, you can find anything at the festival.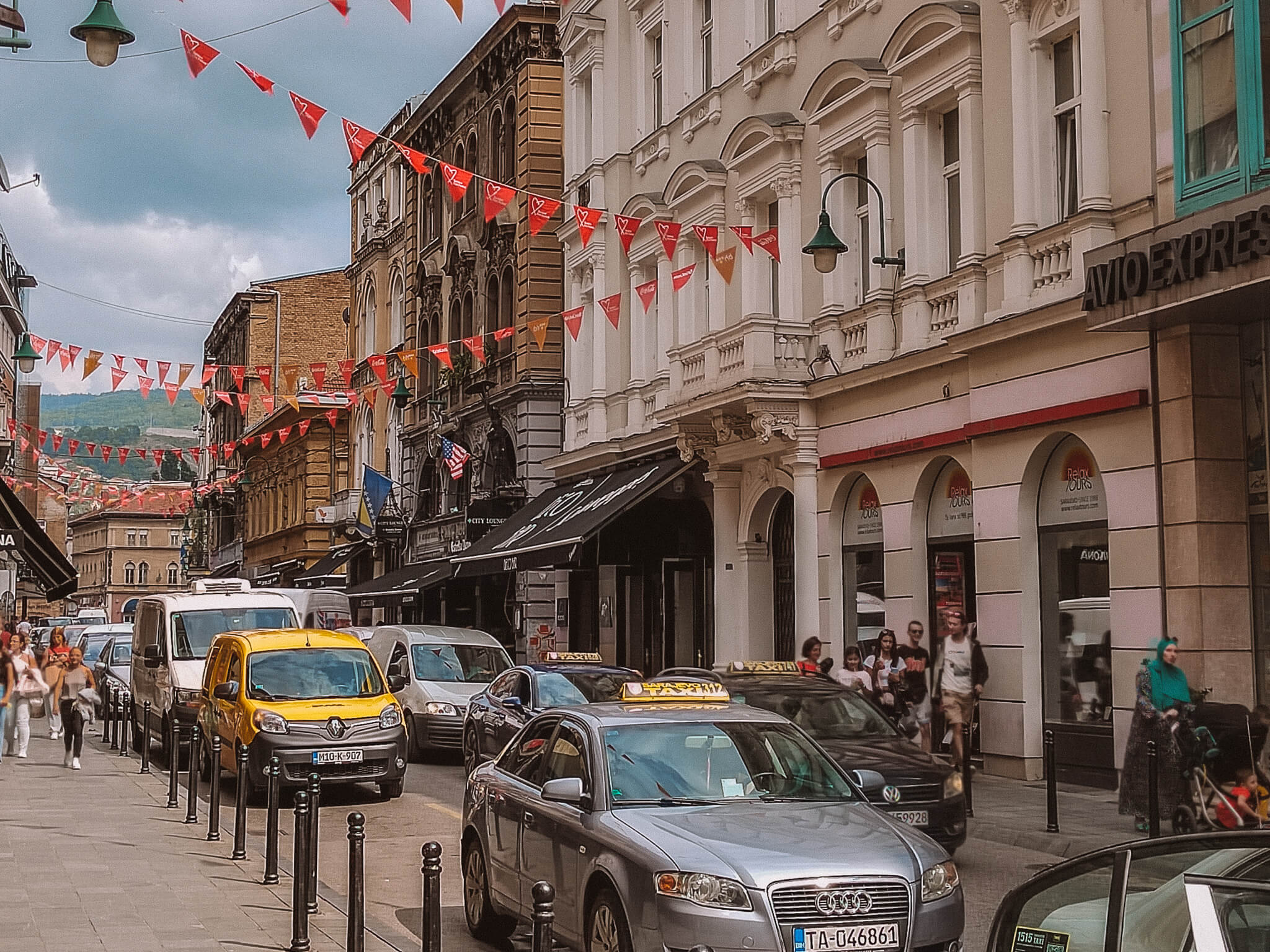 Sarajevo Film Festival: How to get around 
Sarajevo is a walkable city, and most of the outdoor screening areas are in the old town, for example opposite Sarajevo's City Hall. After the evening film, film-goers take to the surrounding bars to enjoy the night further. Some streets of the city are closed off to traffic in the evening hours during the film festival, so strolling around is easy and enjoyable.
If you want to go to a screening a bit further out, you can either take the bus and tram (check connections on the app Moovit), go by taxi or even take an electric scooter or a bike.
Nextbike is an affordable bike share service with different stations all around the city. The only disadvantage compared to an electric scooter is that you cannot just park your bike anywhere – you have to leave it at one of their designated stations. So if you'd rather go by e-scooter instead, you can download the app binbin. Just note that there are some areas, especially in the Old Town, where you are not allowed to park your scooter.
Where to stay during the Sarajevo Film Festival
Sarajevo is busy during SFF, and a lot of accommodations are booked out months in advance. Prices per night can also soar during that period. In general, finding a privately owned flat where you can also cook and cure your hangover in peace might be the best idea.
Now, we all know that location is everything, but like I already said, Sarajevo is an easily walkable city, even if you don't stay directly in the old town, you're not missing out on any of the fun. Actually, I wouldn't necessarily recommend you to stay directly in Baščaršija or around the National Theatre as the SFF parties go on until late in the night, right below your window.
A great area to stay in, if you want more quiet during the day, would be Marijin Dvor or Grbavica. Those are more residential but still pretty central and in walking distance to most screenings. And when you are tired to walk, a taxi won't break the bank. Another plus, is that those two areas are close to the Vilsonovo Promenade – a popular walking area that is closed off to traffic after 5 PM.
Additionally, you'll find many nice bars and restaurant all around Marijin Dvor that are not as crowded by tourists and film-goers as the places in the old town. Here is a list of my favourite restaurants in Sarajevo.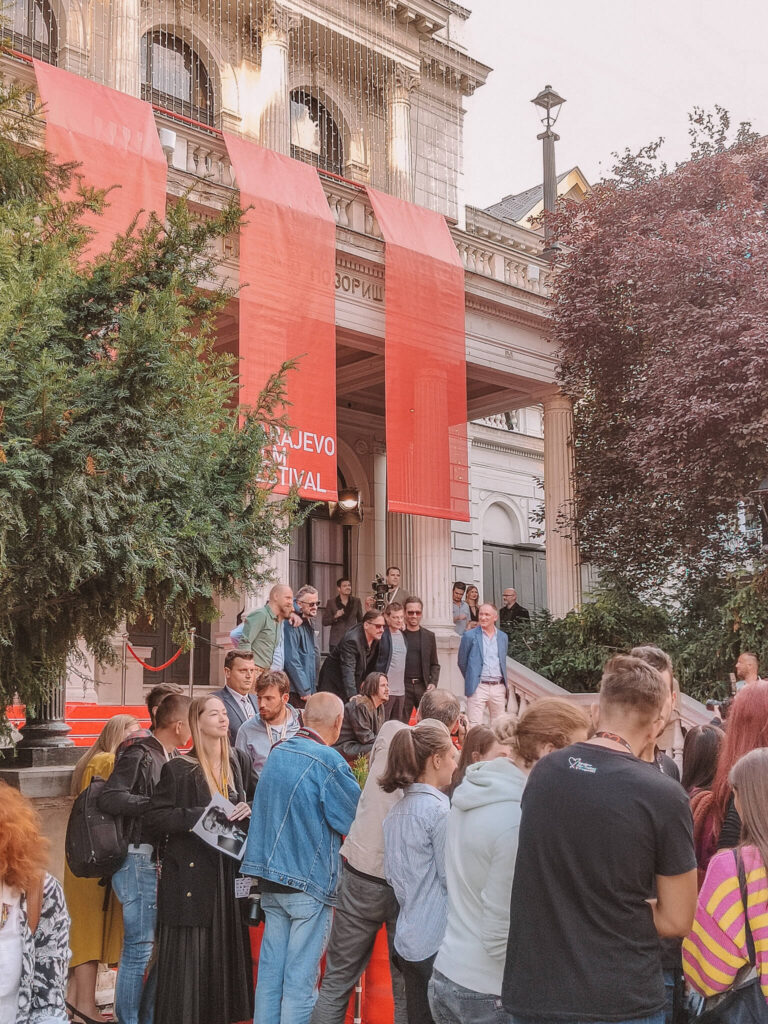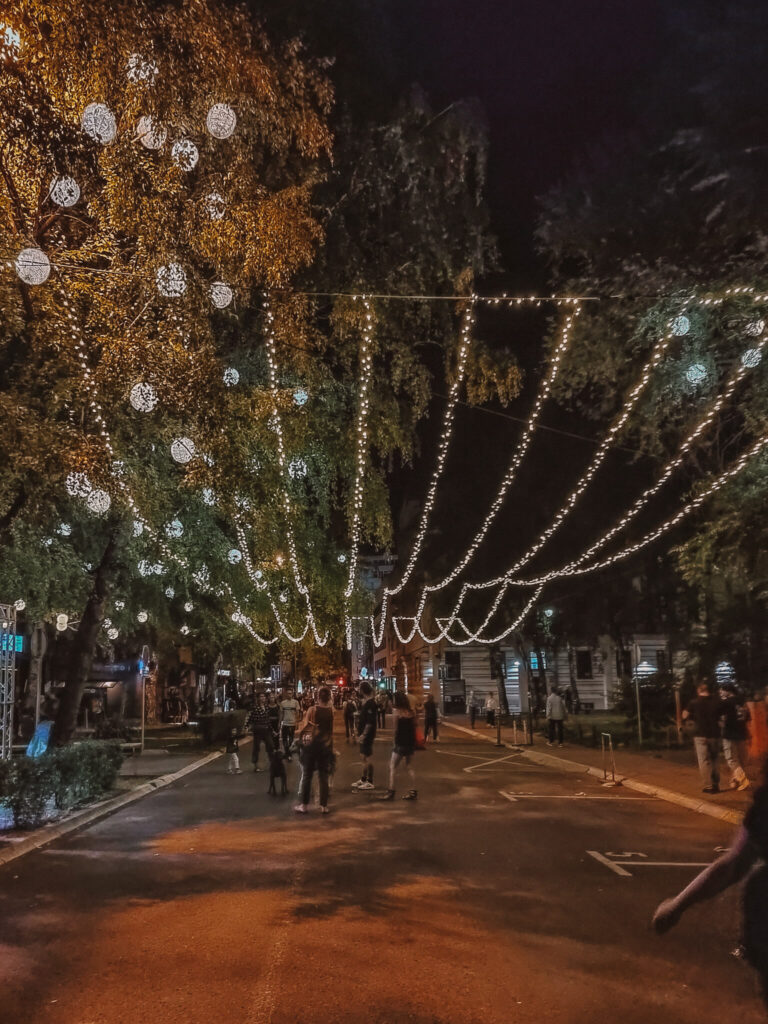 Events & Parties during the Sarajevo Film Festivals
There is something going everywhere in town during this week. The film festival is to Sarajevo what carnival is to Rio de Janeiro, and people are waiting for it the whole year – some locals take the whole week off to not miss out on any of the fun!
In those seven days, the city allows all restaurants and bars to be open until 1.00 AM, regardless of their normal and official closing times. The streets Zelenih Beretki and Branilaca Sarajeva, that host many bars and restaurants, are made into pedestrian zones, which means businesses put tables and chairs on the streets and transform the whole area in one big party mile. Many will have live music too.
Apart from the party on the street, even shops will do little parties on their own, the street wear shop Royal With Cheese has a DJ almost every year for example.
Great bars to kick off the night:
Another street that becomes a party hotspot during Sarajevo Film Festival is Radićeva Street – a short tree-lined street with several bars and restaurants as well as the Summer Lounge that always takes place at Skenderija during SFF. Make sure to also check Sarajevo Matinée and Garden of Dreams for events during this week. 
And then there is the grand finale of course: The SFF closing party, taking place on the last night of the Film Festival in front of the Eternal Flame in Titova Street. The entrance is always free, and the act is always a surprise that is just announced a few days prior to the party – world-renown DJ Solomun played a set here last year, for example! So if you are in Sarajevo for the last day of the Sarajevo Film Festival, make sure to not miss it!
Sarajevo Film Festival: Extend your stay
You might want to explore a bit more of the counrty after your stay in Sarajevo – or you might be in need of a bit of a detox after a week of films and parties. 
So how about a little road trip out of the city and towards the country's Mediterranean South-West, the Herzegovina region? This 6-day road trip takes you to the beautiful city of Mostar, but also to the coastal town of Neum for a much-needed beach break after the hustle and bustle of the city!
Or would you rather spend some time in nature on the mountains surrounding Sarajevo? Jahorina and Igman boast amazing spa & wellness hotels – the perfect place to detox and rest. All you have to do is walk from your room to the spa, around the beautiful green meadows, to the restaurant and back 😃 I can highly recommend Hotel Monti, or Hotel Nomad for a proper spa weekend getaway.
If you are looking for something more tucked away in nature and rural, then the village of Umoljani on Bjelašnica might be perfect for you. Koliba Umoljani offers beautiful mountain cottages and is surrounded by lush, green nature.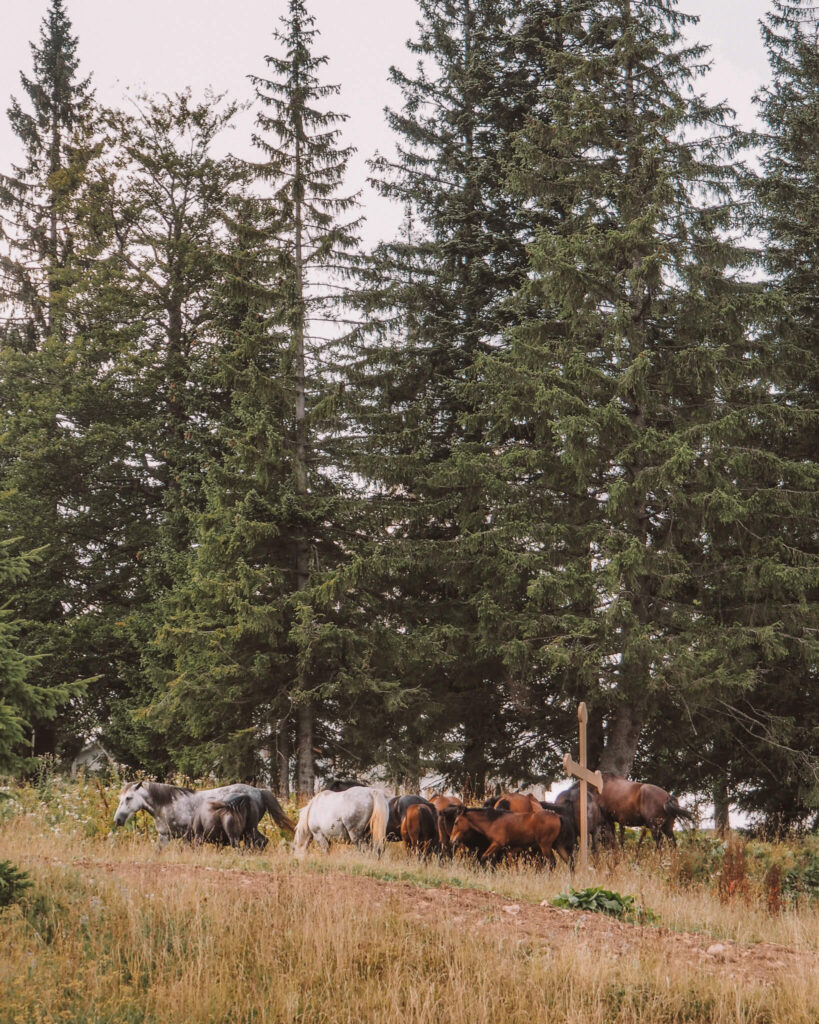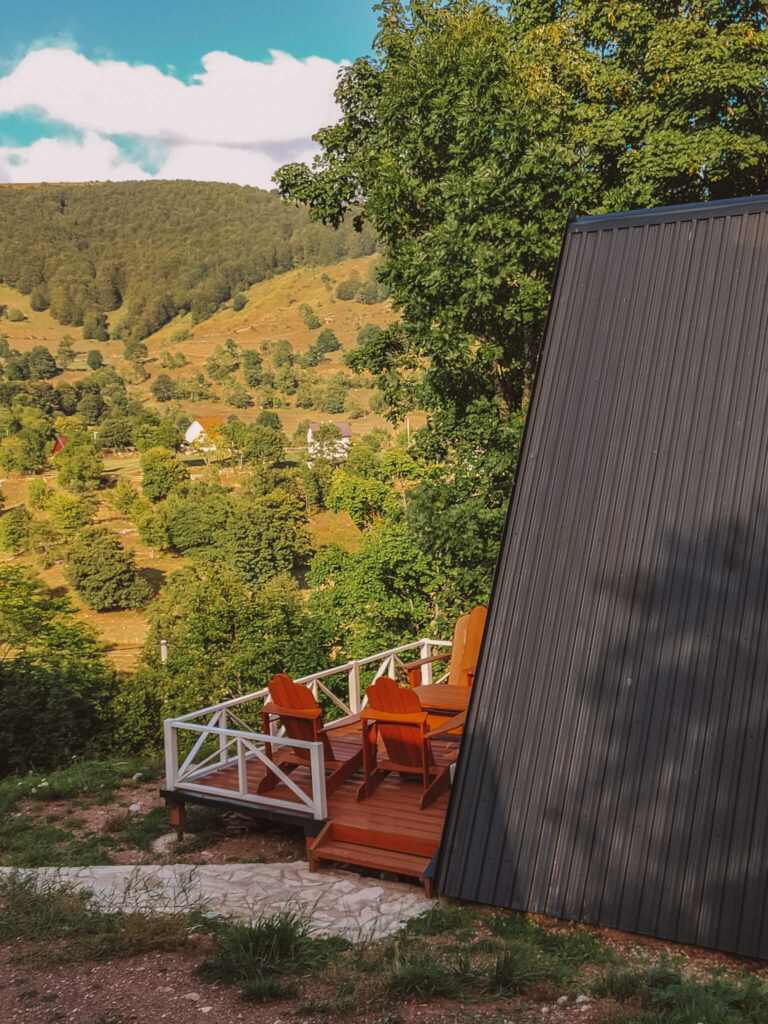 TRANSPARENZ: AFFILIATE LINKS
Dieser Blogartikel enthält persönlichen Empfehlungen in Form von Affiliate-Links. Wenn du etwas über die Links buchst oder kaufst, erhalte ich eine kleine Provision. Für dich ändert sich dadurch am Preis überhaupt nichts. Vielen Dank für deine Unterstützung!
Warst du auch schon einmal in Sarajevo? Wenn ja: Wie hat es dir gefallen? Hast du zusätzliche Tipps und Erfahrungen? Ich freu' mich, in den Kommentaren davon zu lesen!