We stroll along the path. It's quiet now that we left the restaurant with its busy children's playground and the parking lot behind. There's nothing to hear but the rustling of the trees and the sound of a little stream happily flowing over moss and pebbles.The path we chose is not really a path, it's half-grown over by grass and flowers. We walk carefully to not stumble over any hidden roots. It feels like civilization is miles and miles away – although the bustling, busy city of Sarajevo with its traffic jams and noise is just a couple kilometers away.
We are on Trebević, the local mountain of Sarajevo. It sends thunderstorms in the summer, people go tobogganing in the winter and enjoy the green and shady slopes for walks and hikes. I was happy to start the hiking season as soon as we arrived in Sarajevo and enjoy the woods as much as I could this summer. There are great hikes in Cape Town, but the vegetation is very different, and hiking in the woods is quite unique for Central Europe. 
Hiking down Trebević is not a very difficult hike – you can hike up to the top and back down, though, which is a 20-kilometer-day-hike and quite challenging. We decided to take the cable car up the mountain, enjoy the view and then just hike down, a more relaxed 10-kilometer-route. We made a little detour on top of the mountain – which I really recommend.
You can follow our route here on Google Maps:
Trebević Seilbahnstation - Naturhotel Pino - Restoran Brus - entlang der alten Bobbahna aus den 1984er Olympischen Winterspielen bis hinunter zur Lateinerbrücke
| | |
| --- | --- |
| Duration (descent): | two to three hours |
| Length: | 10 kilometers |
| Difficulty | easy |
| Starting point | Upper cable car station |
taking the cable car up the mountain
We decided to take it a bit slower for our first hike of the season and not hike the whole way up and down. Instead, we took the cable car up the mountain. The Sarajevska žičara re-opened in 2018 after being destroyed during the war in the 90s.
A one-way ticket up the mountain is 15 KM (7,67 EUR). If you just want to take a little walk on the Trebević and explore the bobsleigh, you can also take a roundtrip ticket for 20 KM (10 EUR).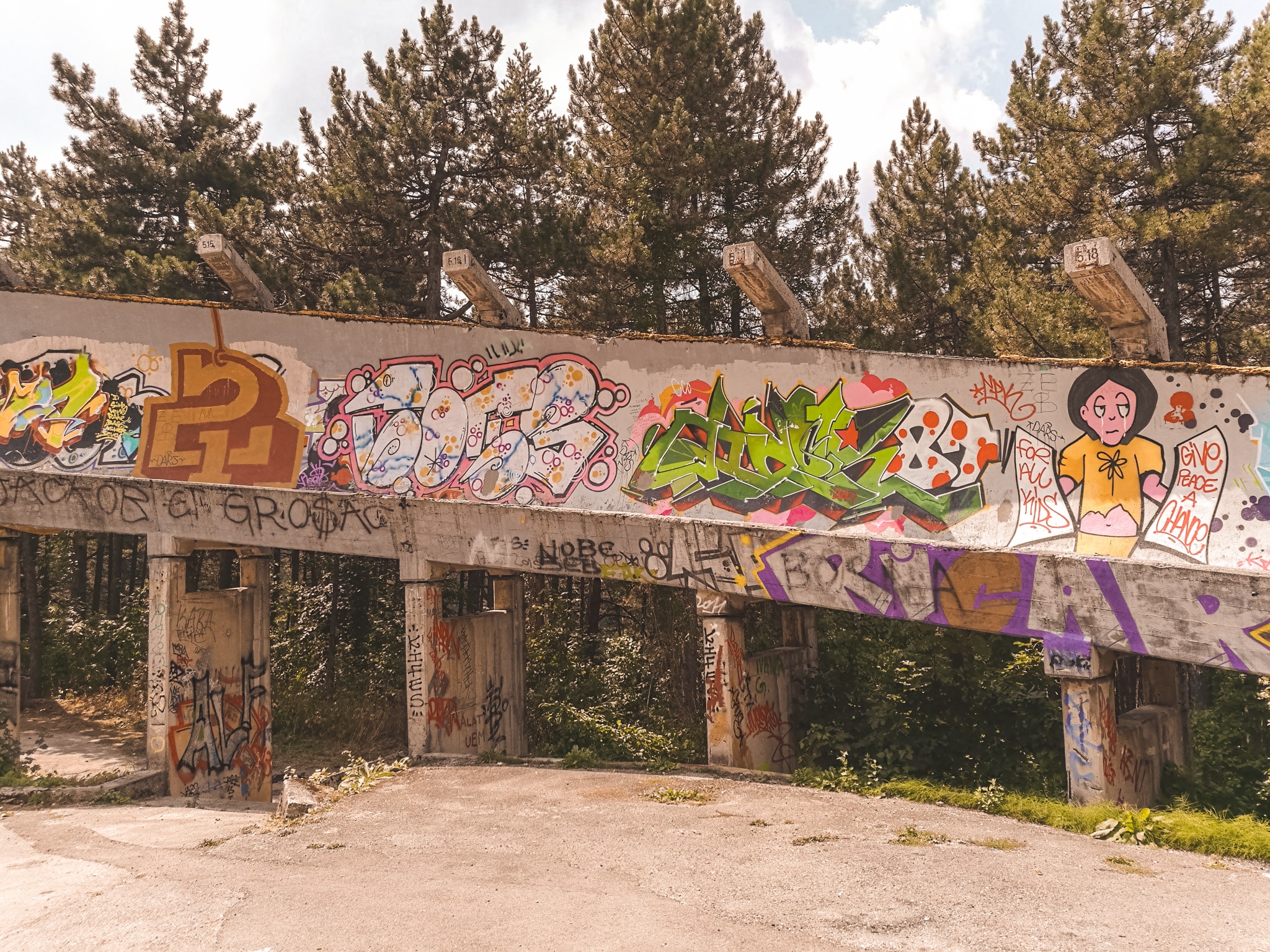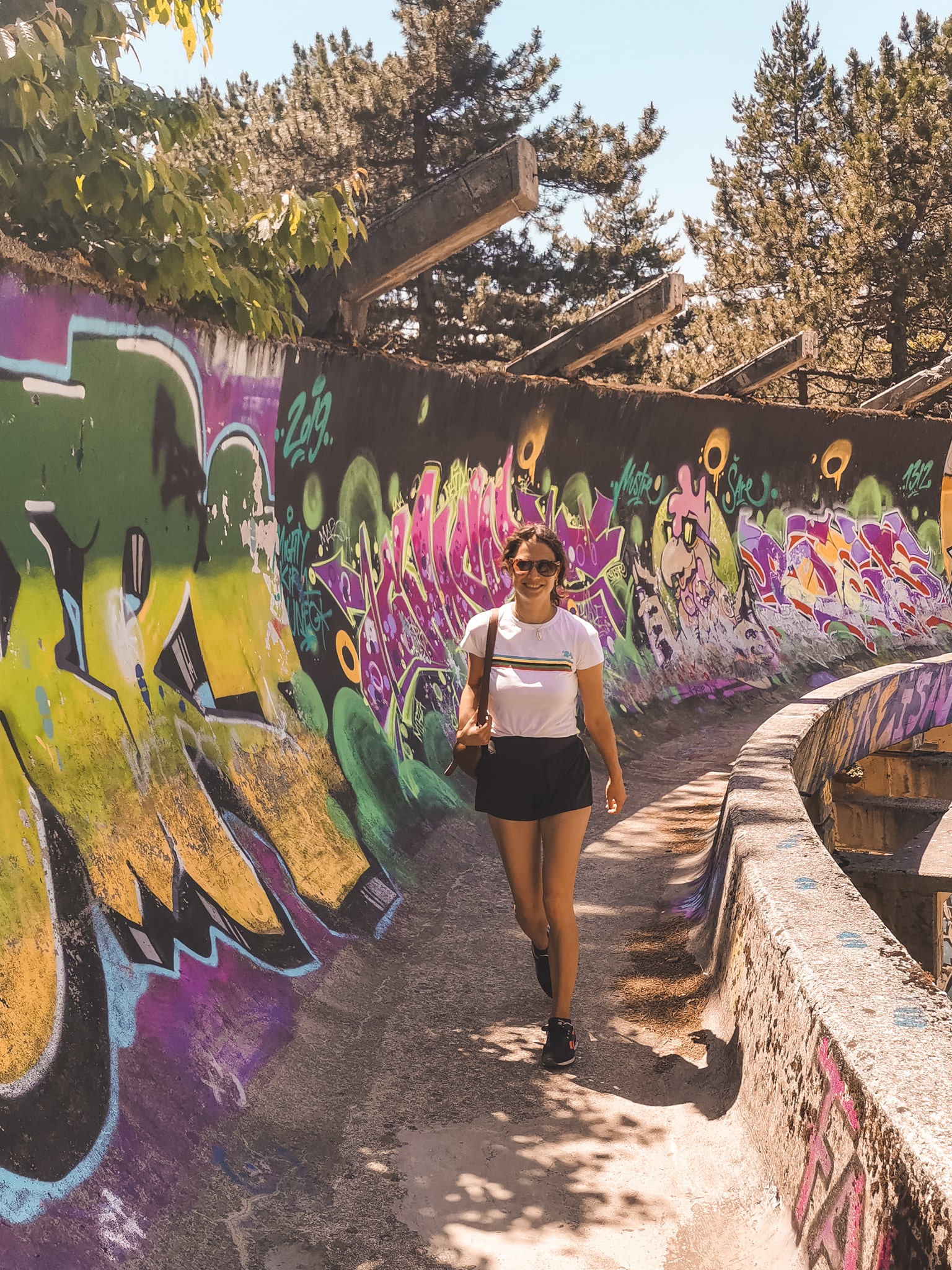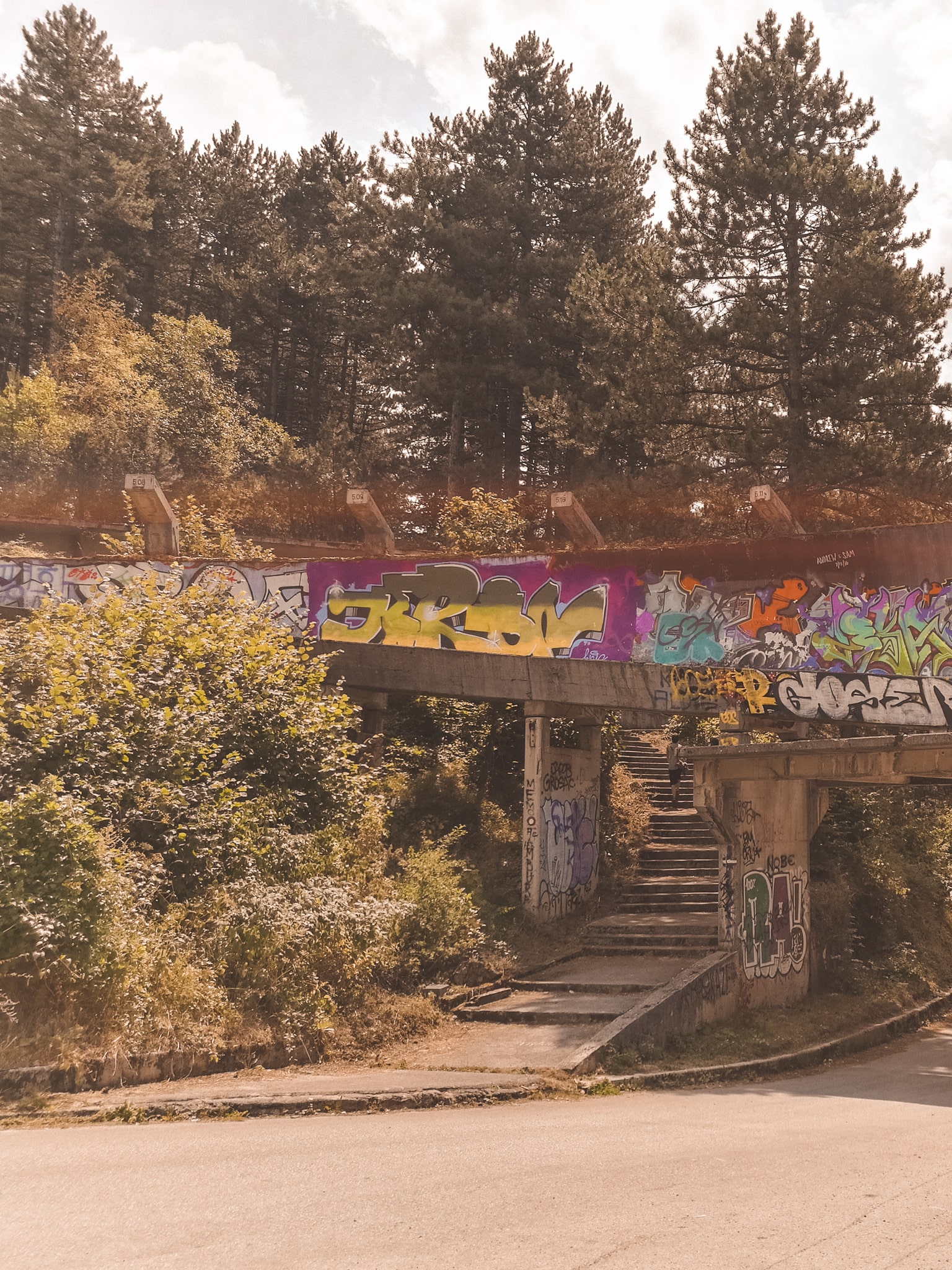 THE ABANDONED OLYMPIC BOBSLEIGH
In 1984, the Olympic Winter Games took place in Sarajevo – it was the first time ever that a communist city hosted the Olympic Games.
After the war, there is not much of the left of the winter sports tracks and ski jumps. The abandoned structures still make for cool places to visit, though. The old bobsleigh is now used as a street art spot. It is basically one big mural. Sarajevo's youth is going there for dates or picnics, and some brave people even drive down with their bikes. 
When visiting Trebević, make sure to actually walk on the bobsleigh and not only on the path next to it, so that you won't miss out on any cool spots or murals.
RESTAURANTS ON THE MOUNTAIN
If you want to take it slow, you can easily spend the whole day on the mountain. Many Sarajevans drive up to Trebević not only to take a walk but to have a grill or a picnic with friends.
Hotel Pino – perfect for coffee or lunch. They also have beautiful rooms and a lovely spa area in case you want to spend the night.
Restoran Brus  – there is no better place on the mountain to spend a day with friends. You can rent a barbecue or bikes and quads at this recreational center to explore the mountain on two or four wheels.
Vila Andrea – I haven't been there but the restaurant is supposedly very good, with a beautiful garden and view
Be careful when you walk along the bobsleigh. It is also used by mountain bikers and sometimes even bob teams that train on the abandoned tracks

Bleibt beim Wandern auf dem Berg immer auf den markierten Wegen! Das Gebiet ist offiziell von Landminen geräumt, aber Wanderwege gibt es aus einem bestimmten Grund – damit ihr zu jeder Zeit sicher seid und euch nicht verletzt.

You don't have to bring liters and liters of water. You will have the possibility to fill your water bottles at the various restaurants on the mountain – with water from Trebević springs

Mit Kindern sind Hotel Pino, Restaurant Brus oder Vila Andrea eine gute Wahl – alle drei haben schöne Kinderspielplätze und bieten Freizeitaktivitäten an.
Hier findest du noch mehr tolle Wanderungen in Bosnia und Herzegowina: